The Apothecary Diaries, anime tv series 2023
The Apothecary Diaries, anime tv series released on October 21, 2023. 
The series adapted of Natsu Hyuga and Touko Shi's The Apothecare Diaries light novel series,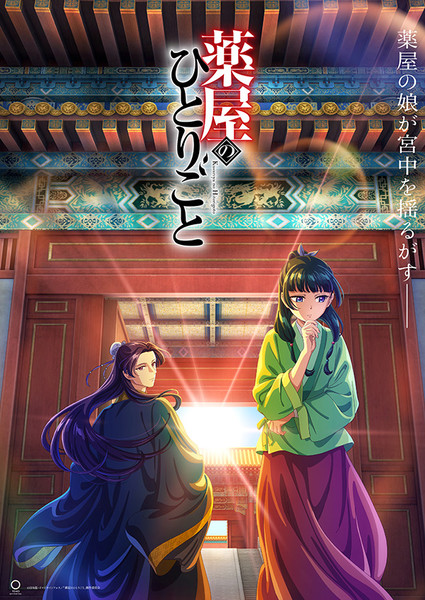 Story:
Apothecary Maomao was just out collecting herbs when she was kidnapped by procurers for the Imperial harem, an easy way for unscrupulous people to get money by having "relatives" go work in the Rear Palace. Hiding her skills and knowledge, Maomao hopes to just glide by, earning as little as possible for her kidnappers during her term of service, but such is not to be: when royal infants begin dying, Maomao can't resist letting people know the cause. This catches the eye of the far-too-handsome Jinshi, who elevates Maomao from laundry maid to poison taster to the Emperor's favorite concubine. So much for flying under the radar. (Story from manga)
Story from J-Novel Club:
In the East is a land ruled by an emperor, whose consorts and serving women live in a sprawling complex known as the hougong, the rear palace. Maomao, an unassuming girl raised in an unassuming town by her apothecary father, never imagined the rear palace would have anything to do with her—until she was kidnapped and sold into service there.
Though she looks ordinary, Maomao has a quick wit, a sharp mind, and an extensive knowledge of medicine. That's her secret, until she encounters a resident of the palace at least as perceptive as she is: the head eunuch, Jinshi. He sees through Maomao's façade and makes her a lady-in-waiting to none other than the Emperor's favorite consort… so she can taste the lady's food for poison!
External Link: Official Website
The Apothecary Diaries, anime tv series 2023: characters
The Apothecary Diaries, anime tv series 2023: Trailers
The Apothecary Diaries, anime tv series 2023: Gallery