Golden Kamuy, Season 1, Anime tv series 2018
Golden Kamuy, a Japanese manga series written and illustrated by Satoru Noda.
The series published by Shueisha in Weekly Young Jump magazine from August 21, 2014 until present.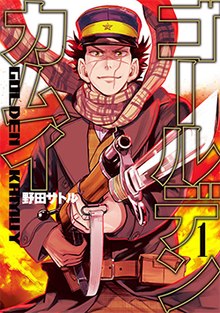 An anime tv series adaptation by Geno Studio, aired the 1st and 2nd seasons from April to December 2018, and the 3rd season aired from October to December 2020.
Season 1, 12 episodes (aired on April 9, 2018)
Season 2, 12 episodes (aired on October 8, 2018)
Season 3, 12 episodes (aired on October 5, 2020)
Golden Kamuy Season 1, 2018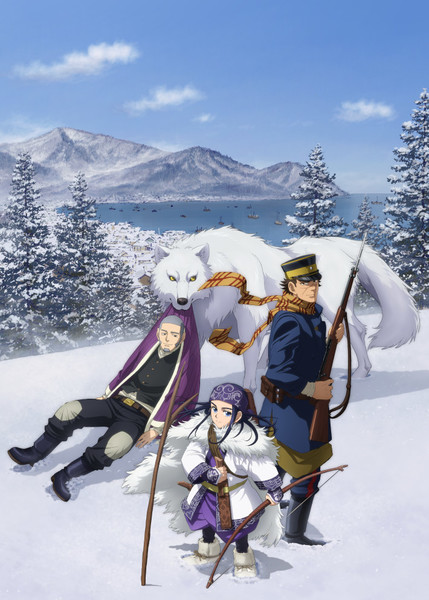 Story:
In the early twentieth century, Russo-Japanese War veteran Saichi "Immortal" Sugimoto scratches out a meager existence during the postwar gold rush on the wild frontier of Hokkaido. When he stumbles across a map to a fortune in hidden Ainu gold, he sets off on a treacherous quest to find it. But Sugimoto is not the only interested party, and everyone who knows about the gold will kill to possess it. Faced with the harsh conditions of the northern wilderness, ruthless criminals and rogue Japanese soldiers, Sugimoto will need all his skills and luck—and the help of an Ainu girl named Asirpa—to survive. (from manga)
External Link: Official Website
Golden Kamuy: Episode Watch Online by Muse Asia EP1-3
Golden Kamuy: Episode Watch Online by Muse Asia EP4-6
Golden Kamuy: Episode Watch Online by Muse Asia EP7-9
Golden Kamuy: Episode Watch Online by Muse Asia EP10-12
Winding Road by MAN WITH A MISSION
โกลเดนคามุย (Golden Kamuy): Episode watch online (Thai Subtitle)
Golden Kamuy Season 1: gallery