Up coming animation

Detective Conan Movie 24
"The Scarlet Bullet"
The Animation Movie directed by Tomoka Nagaoka.
During the new coronavirus pandemic the Dectective Conan Movie 24 scheduled to premiere on April 17, 2020 was postponed.
And the new release date of Detective Conan's 24th movie not yet to be determined.
Detective Conan Movie 24 Trailer
" The Scarlet Bullet"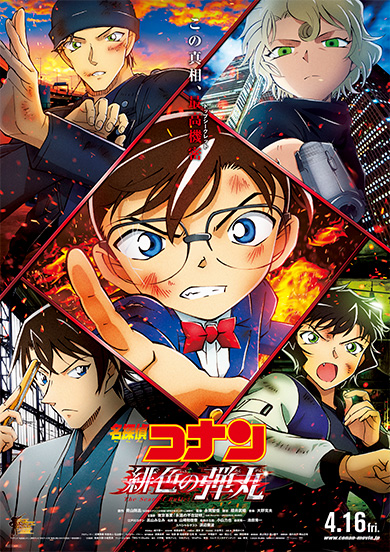 Detective Conan Scarlet Bullet update!!
Open to the public on April 16, 2021
The 24th film, Hiiro no Dangan or Scarlet Bullet
Story in brief:
Japan is about to celebrate the world's largest sports festival "World Sports Games" in Tokyo, with the openning ceremony, it is annouced that the world's first "Vacuum Superconducting Linear train, boasting a maximum speed of 1,000 km/h, which combined all of Japan's technologies.
The train will be opened to the public between Shin-Nagoya station and Shibahama Station, and established in Tokyo.
As the world's attention is garnered, the WSG kidnapping incident occured, the situation semilared to 15 years ago, under the jurisdiction of the FBI. 
Shuichi Akai

Mary

Shukichi Haneda

Masumi Sera