Chain Chronicle The Light of Haecceitas, Japanese Anime tv series 2017
Chain Chronicle, a tower defense role-playing game developed and published by Sega on iOS, Android, and PlayStation vita.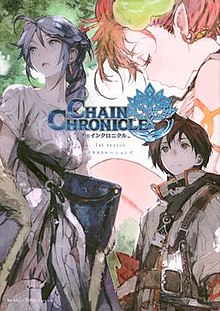 An anime tv series adaptation by Telecom Animation Film and Graphinica, licensed by Crunchyroll, aired from Janury 8 to March 25, 2017.
Theatrical Screening:
Part 1: December 3, 2016
Part 2: January 14, 2017
Part 3: February 11, 2017.
Chain Chronicle: The Light of Haecceitas (12 episodes)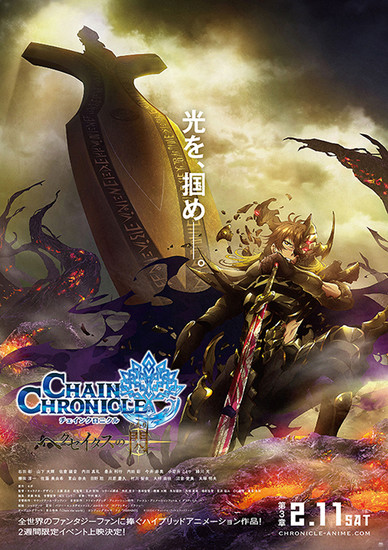 Story:
This is the story of the Chain Chronicle, a book that describes everything that happens in the world. 
The citizens of the remote continent of Yggd once thought that there was nothing beyond their continent. The continent was divided into several regions, each with its own king. 
Though there were small skirmishes amongst them, a lord, chosen by the kings in conference, always maintained balance, until the evil Black Army arrived. 
The Volunteer Army, led by Yuri, was no match for the Black Army. During the fighting, the Lord of Black captures half of the Chain Chronicle, as well as the capital.
External link: Official Website
Chain Chronicle: characters
Chain Chronicle: trailers
Chain Chronicle: theme song
Chain the world (film theme) by Nao Tayama
My Liberation (TV theme) by Nano
PARAISO (Film theme) by Nano
True Destiny (TV theme) by Nao Toyama
Chain Chronicle: Episodes Watch Online (by Muse Asia)